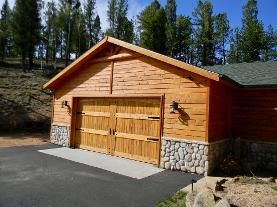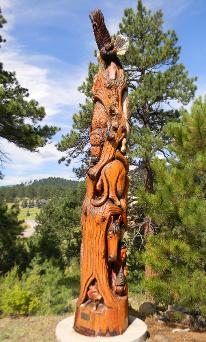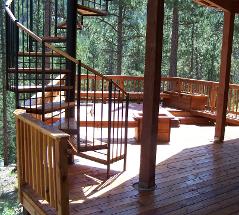 Service provided
The services I provide can be broken down into three categories - New Wood - Restoration - Maintenance.
I do not charge for my estimate and evaluation of structures within 50 miles of Bailey, and only ask for feedback. I can give ballpark figures on the phone if square footage and knowledge of prior wood treatments known. Pricing is done by square foot in most cases
include caulking, trim paint, and wood replacement, etc.
New wood needs to be prepped before an exterior finish is applied. Prepping includes a wash and brightener application which will remove mill glaze, construction dirt, and sun damage. The brightener application (oxalic acid) neutralizes the PH of the wood which in turn opens up the wood pores enabling more of the oil finish to penetrate. The moisture content and age of the wood will determine how much wood finish the wood will absorb. New wood still has its own oils, and resins that prevent optimum penetration of the finish, therefor a re-application of wood finish may be needed a year later when the wood has had a chance to cure. All new wood will receive two coats of finish.
Restoration involves removing a failed finish or finishes and restoring the wood to its natural state. The process to achieve this is done with soaps and gels designed to break down the old finishes, followed by a industrial grade power wash and wood brightener application. Additional sanding or brushing may be needed for stubborn areas. The picture on top of page shows an area washed, and an area that isn't. I feel this is an area that I excel in, where as most painters and handymen fail to strip the old finish off completely, and resort to a higher pigmented product. After the wood is prepped, windows are thoroughly masked, and any area that has the potential to get accidentally treated will be tarped or shielded. This attention to being neat is done on all services. All areas to be treated will receive two coats of finish.

Maintenance is a service I provide to take care of your existing wood finish. The recommended time is listed on FAQ page, and keep in mind they are guidelines in which each situation can vary. Maintenance normally will include a wash, brighten, and re-application of the exterior finish (1 coat). Maintenance cost is generally half the cost of a full restoration so it pays to stay on top of it. This process is the easiest of the three and again I can provide the material needed for those who would like to do it themselves.

Square footage measurement on house contracts includes window & door surfaces.
Application of the exterior finish will be applied by brush or sprayer, If the finish is sprayed the 2nd coat will be back brushed to insure penetration and color consistency.
Restored, and new wood always receives two coats of finish.